BREAKING: Terrorist Attack in Vegas – 50 Dead and 200+ Injured in Mass Shooting
Late Sunday night at a Country Music Concert on the Las Vegas strip a gunman opened fire, killing at least 50 and wounding over 200 others according to Nevada authorities.
One on-duty officer is in critical condition and another was wounded in the shooting. Two off-duty police officers were killed.
Clark County Sheriff Joseph Lombardo said authorities did not release the suspect's name but said he is a local resident. Lombardo said authorities believe this was a "lone wolf" attack but said they were looking for a roommate of the dead suspect as a person of interest.
The hunt is on for Marilou Danley who is described as an Asian female, about 4'11 and 111 pounds. Authorities have told folks to keep an eye out for a "Hyundai with a Nevada plate: 114B40 and a Chrysler with a Nevada plate 19D401."
Authorities first received calls about an active shooting at about 10:08 p.m.
Country music star Jason Aldean was performing at the Route 91 Harvest Festival when the gunfire erupted.
From Fox News:
Aldean was performing his last song of the night. Initially, those in attendance said they thought the sound was firecrackers. But as the shots continued, Aldean stopped singing and some concertgoers could be heard yelling to each other to get down.
One witness told KSVN that he heard "hundreds of shots." The gunfire was rapid and reportedly confused with firecrackers.
"It sounded like a machine gun," one vendor told Fox News. "It sounded like more than one machine gun."

Authorities said law enforcement swarmed the hotel and killed the gunman in a room on the 32nd floor.

Some concertgoers stayed behind to offer help to those around them.

"Everybody I saw breathing, I helped." a concertgoer told Fox News.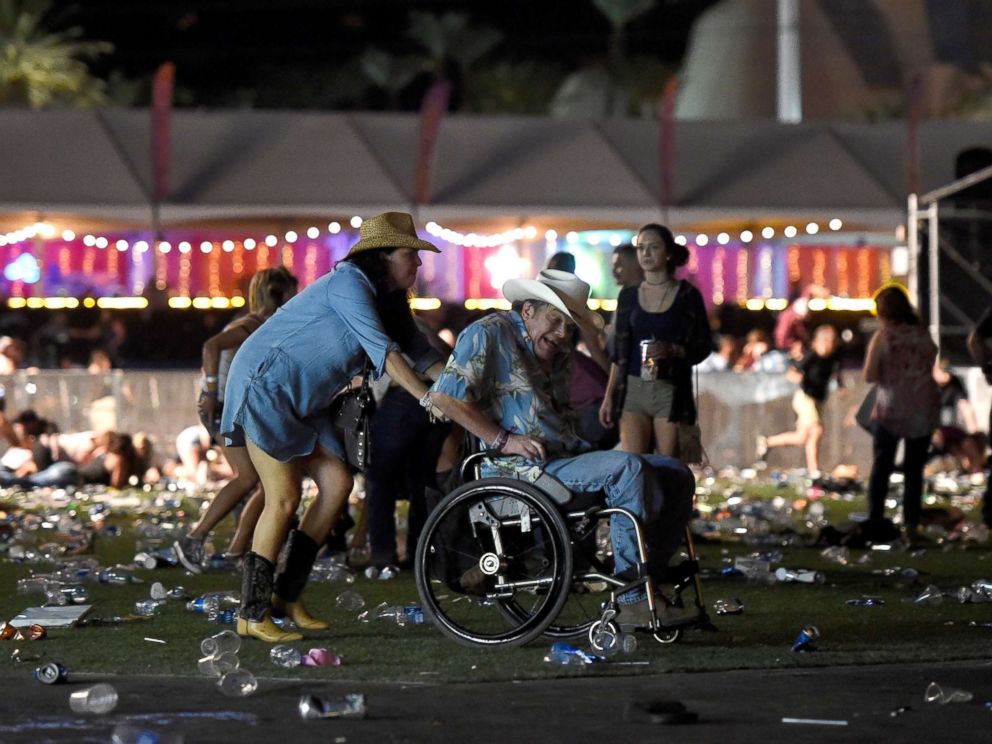 The entirety of the Las Vegas Strip is now on lockdown and all local businesses are closed.
University Medical Center spokeswoman Danita Cohen said the Las Vegas hospital is taking in people with gunshot wounds. She didn't have any more immediate information.